Bristol-based industrial parts distributor Antifriction is forecasting strong sales of a new range of greener and more energy-efficient ball bearings developed for food and drink manufacturers.
The firm has signed a deal with Swedish multi-national SKF to stock the new Food Line range, which aims to improve health and safety by lowering the risk of bacteria in hard-to-clean areas using innovative sealing systems, high-performing bearing grease and completely sealed units.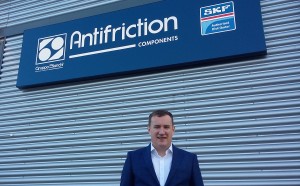 The components are 100% recyclable while they also improve energy efficiency by reducing the need for hot water to remove environmental waste.
The new Food Line bearings do not require relubrication or the need to clean excess bearing grease, which can lead to production downtime. With less cleaning required, it is expected bearing lifespans will be lengthened.
Antifriction was established in 1976 from a single unit and today employs more than 90 staff across 10 sites in the UK and Northern Ireland. Its head office in Pioneer Park, St Anne's.
The firm became an authorised distributor for SKF in 2004 and now offers the Swedish group's complete portfolio of bearings, seals, lubrication systems, maintenance products and training courses. Antifriction began stocking the new ball bearings this month.
SKF CTO and president – innovation and business development – Victoria van Camp, said: "The problem is traditional relubrication, wash-downs, and dry cleaning of bearings can create hidden areas where contaminants thrive, such as airborne droplets, wastewater or contaminated grease.
"Eliminating these food-safety threats requires a different approach to hygienic design, and that's what the Food Line ball bearings are designed to deliver."
Antifriction managing director Andrew Fleming, pictured, added: "SKF has built a reputation for quality products over a hundred years. It continues to innovate and these latest products will undoubtedly improve the effectiveness of food and drinks manufacturers which value the highest standards of health, safety and energy efficiency."
Antifriction was acquired by Italian distributors Gruppo Bianchi in 2011 and has been undergoing a long-term programme to upgrade facilities, which included expanding its Bolton and Birmingham warehouses last year.
New sites near Heathrow Airport and Ellesmere Port, Liverpool, have been added to give greater national coverage and reduce delivery times.