Bristol-based healthcare marketing and advertising agency Create Health has received a £500,000 loan from specialist lender Creative Growth Finance to fund further international growth.
The firm plans to double in size over the next five years following a management buy-out (MBO) earlier this year.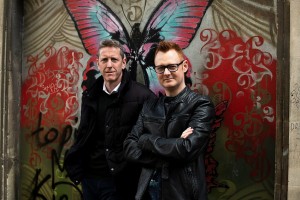 The loan from Creative Growth Finance helped fund the MBO, in which managing director Ed Hudson and creative director Phil Blackmore, pictured, became majority shareholders, and is also providing additional strategic and creative support for the agency's next growth phase.
Founded 10 years ago by Bristol-born entrepreneur Darren Clare, Create Health enhances the way that new healthcare technologies, treatments and methods of care are presented to the people that matter.
It 18-strong team works on global and national campaigns for blue-chip healthcare brands such as Thermo Fisher Scientific, ConvaTec, BD and HOYA.
The deal is the fourth by the Creative Growth Finance Debt Fund since it was launched last year by creative industry body Creative England and Bristol-based ethical bank Triodos Bank UK.
The Fund provides vital scale-up finance in the form of loans between £100,000 and £500,000 to some of the UK's most promising creative businesses.
Creative Growth Finance head of investment Tim Evans said as a marketing and advertising agency built on innovation, Create Health was a natural choice for the Creative Growth Finance team.
"As we all know, many creative businesses have been hit hard by the pandemic. Yet, alongside this, there are certain companies that have been in a position to not only continue to operate but also to continue to grow; benefiting from business structures that easily transition to home working," he said
"Create Health is a great example of one of these companies. We were struck by the Create Health team's powerful and knowledgeable creative process, as well as the incredibly dedicated and passionate team."
Create Health creative director Phil Blackmore added: "We found the Creative Growth Finance team easy to connect with – they were very approachable and fully supportive of our local creative industry.
"As well as being interested in our growth and vision as an agency, they were clearly keen to bring jobs and prosperity to the South West.
"We've been able to restructure the business around our creative proposition, bringing in the additional strategic and creative support to grow our European and global client base."
Loans from the Creative Growth Finance Debt Fund have fixed interest rates from 7% to 15% with repayment terms of up to four years.
To be eligible, companies must be UK-registered and operate in the film, TV, media, immersive and video games, advertising & marketing, digital & creative tech, creative software solutions, fashion, architecture, music or publishing industries. They must also have a recent annual turnover of at least £300,000.