Bristol robotics firm Open Bionics, which makes innovative hi-tech prosthetic limbs for amputees, has raised £4.7m to help it become a global player. 
The firm, founded four years ago by CEO Joel Gibbard and COO Samantha Payne, pictured, and based at UWE's Future Space innovation hub, secured the funding from three investment firms keen to see it reach its potential.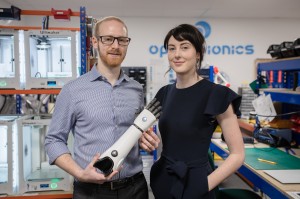 Open Bionics, which employs 23 people, has already designed and produced the Hero Arm, the world's first clinically tested and medically certified 3D-printed bionic arm.
Now it said it would use the new funding to further scale up as it builds and develops the next generation of bionic limbs and looks to increase sales, including in new markets overseas such as the US.
The Series A investment has been made by Foresight Williams Technology EIS Fund – a collaboration between the Nottingham-based Foresight Group and Williams Advanced Engineering – Downing and Ananda Impact Ventures, putting in around £1.5m each.
Bristol-headquartered law firm TLT acted for Open Bionics – which it has worked with since executing its seed round of investment in 2016 – while the Bristol office of international legal practice Osborne Clarke also advised on the deal.
Foresight senior investment manager Andrew Bloxam said: "The Fund's strategy is to support innovative UK businesses with disruptive technologies. Open Bionics is a great example of engineering innovation and disruptive technology that has potential to grow the market significantly.
"We look forward to working with the management team as they grow their business and helping with the commercialisation of this life changing technology."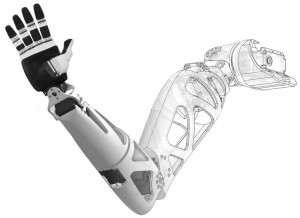 He said Open Bionics' Hero Arm had already opened up attractive new markets as previous tech-laden prosthetic limbs had been too expensive.
"Combining this competitive pricing with commercial licences from Disney, Marvel and Pixar, positions the Hero Arm most favourably with children as young as eight and adolescents, changing their perceived disability into superhero status," he said.
Open Bionics co-founder Samantha Payne added: "We're exceptionally excited to receive this support from such high-calibre investors who offer not only financial backing but also incredible experience in commercialisation, measuring impact and engineering high performance hardware.
"This funding enables us to serve multiple international markets and we're thrilled to be heading to the US later this year."
Under the deal, Williams Advanced Engineering will work with Open Bionics to share expertise in product development systems.
Williams head of technology ventures Matthew Burke said: "Alongside the Fund's investment, Open Bionics will benefit from the engineering and technology experience at Williams and the investment management and growth experience of Foresight's team of investment professionals. Together this aims to be an ideal combination to deliver for the sector, its customers and the wider UK economy."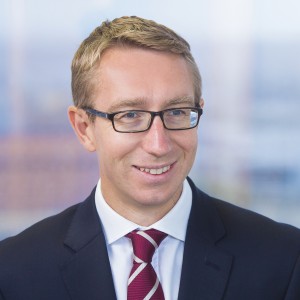 The investment was secured from a combination of venture capital trust (VCT) and enterprise innovation seed (EIS) funds, as well as an overseas VCT.  
The TLT team was led by partner Jon Gill with assistance from corporate team associates Nina Searle and James Webb, solicitor Matthew Howells and legal assistant Rachel Kelly. Legal director Mark Braude and trainee solicitor Emily Broderick provided tax advice.
Samantha Payne praised the firm's role in the deal, saying: "TLT has been an absolute pleasure to work with, supporting us on our investment journey and helping to bring our ideas to life. They acted as a sounding board for our early stage ideas and have continued that support by accessing finance for our products and services to be developed."
Jon Gill, pictured, added: "We regularly act for robotics companies and it's exciting to be supporting our clients on projects that will no doubt shape the future of the Artificial Intelligence (AI) and robotics industries. We are continuing to see interest from abroad in the UK tech scene and this gives fast growing businesses an exciting opportunity to expand their business overseas."
The Osborne Clarke team which advised on the transaction was led by corporate partner Simon Jones and supported by associate Isaac Paine.