Bristol-based Ultrahaptics, the world leader in mid-air touch technology, is poised for further growth after completing a £35m Series C round of investment.
The funding will enable the University of Bristol spin-out to further develop and commercialise its revolutionary 'haptic' technology into new markets.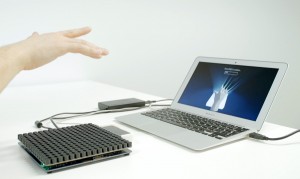 The new funding was led by the buyout and growth investors Mayfair Equity Partners, which was joined Hostplus – a major Australian superannuation fund.
Existing shareholders IP Group, Woodford Investment, Cornes and Dolby Family Ventures have again invested in Ultrahaptics.
The core technology of the firm, which was founded in 2013 and based on technology developed at the University of Bristol, uses proprietary algorithms and supporting hardware to project ultrasound-driven tactile sensations in mid-air.
Users can 'feel' and interact with virtual objects and controls, using freehand gestures to interface with technology and content.
It is working with blue-chip firms in a range of sectors such as automotive, where the company has developed concept vehicles with Bosch and Harman; digital signage; location-based entertainment; industrial controls; medical interfaces; VR games; and augmented reality/virtual reality (AR/VR) enterprise applications.
The company also supports the international academic community through a programme designed to enable additional haptics research and development.
Ultrahaptics CEO Steve Cliffe said: "We're delighted to welcome major new investor Mayfair, while receiving further endorsement and support from our existing shareholders for the company's exciting next phase of development.
"Our funding has become ever more global, reflecting the potential of our technology in industry sectors and markets all over the world."
Mayfair Equity Partners managing partner Daniel Sasaki said: "The potential for mid-air haptics systems within immersive infotainment systems and human-machine interfaces is very compelling and exciting. We look forward to supporting the Ultrahaptics team in their journey to become the global platform enabling mid-air haptics."
Pictured, from left: Ultrahaptics CEO and president, CTO Dr Tom Carter and CFO Christopher Olds