The best photos showing Bristol at work, rest and play will be unveiled this evening as the city's pioneering 24 Hours in Bristol photographic competition reaches its conclusion.
More than 10,000 photographs are estimated to have been taken by 200-plus amateur and professional photographers from across the UK and Europe for this year's event.
All were taken within a 24-hour period during the 'competition day' – August 23 on the last bank holiday weekend of the summer. Photographers were given a one-hour slot in which to capture the city's unique character.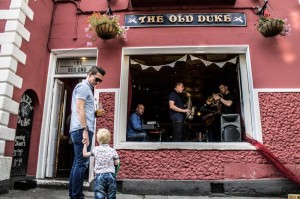 Some 800 were entered into the competition and, of these, 80 prize-winning images will be on display at an exhibition starting tomorrow at the Harbourside Art Centre, near Millennium Square.
They range from stunning Harbourside sunrises to wonderful portraits of Bristolians working, resting and playing.
Ahead of tomorrow's exhibition opening, sponsoring companies who between them provided prizes worth £8,000 will gather at the Arts Centre for a preview of the stunning shots before the winning entries are announced.
The main backer this year – the second year the contest has been staged, is international property agents JLL, which has a major office in the city, supported by a host of businesses and organisations including Destination Bristol, Bristol City Council, property developers The Osborne Group and Canada Life Investments.
Photographers taking part this year included Ivo Barbosa and Catarina Lourenco, who flew in from Bristol's Portuguese twin city of Oporto. Catarina said: "Participating in this competition was an honour and a pleasure. Bristol is a lovely city and the people are very kind. Some actually took me to places they thought would be good to photograph and taught me the history of the area. It was a great experience."
Other entrants included portrait photographer Benedict Young, who has just returned from living in Taiwan for five years and entered the competition to reacquaint himself with the city, while Bristolian Bob Foster has set himself the challenge of taking a photo of the city every day for the rest of his life.
Bob said: "I walked for miles and miles around the city, meeting wonderful people and seeing familiar places in a new light, quite literally. There was a great sense of camaraderie among the photographers and people in the city who really entered into the spirit of the competition."
First prize is an Olympus PEN camera plus an Adobe editing package and £2,000 cash, sponsored by Destination Bristol. Second prize is £1,000, sponsored by Spire's The Glen Hospital, and third prize is £500, sponsored by City Sightseeing Bristol.
Bristol Water has offered an environmental prize and there are also prizes for the best photographs taken in each hour of the competition sponsored by Invest Bristol & Bath, Clifton Cameras, Barclays Bank, Manfrotto, Thistle Grand Hotel, Almeda, The Bristol Magazine, Radisson Blu Hotel, Bristol Ferries, PS Photography, the Bristol Hotel and the Royal Photographic Society.
The 24 Hours in Bristol 2014 exhibition opens to the public at 11.30am tomorrow. More details on the competition at www.24hoursinbristol.co.uk.