Bristol property company Urban Creation, which specialises in transforming unusual and often historic buildings, has secured a £20m re-finance of its property portfolio with Handelsbanken.
Urban Creation develops and manages high-quality properties, with a focus on stylish student accommodation and boutique serviced apartments in the heart of Bristol.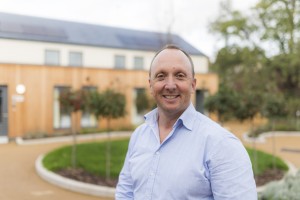 The deal amounting to just over £20m will underpin the company's growth and reflects the quality of its existing portfolio as well as the success of Urban Creation's first foray into serviced apartments.
Urban Creation director Jonathan Brecknell, pictured, said: "At Urban Creation, we've carved out a niche for ourselves in seeing the potential in unusual, often historic buildings and carefully converting them into high quality, stylish places for people to live and visit, as well as creating striking, well-designed new properties.
"It's fantastic to have this refinance agreed, meaning we are well placed to build on the recent success we've seen across our business and are now poised for growth. We already have some exciting new development projects underway and are also looking ahead to potential future opportunities."
The re-finance covers Urban Creation's entire property portfolio including student homes at Charlotte's Rise on Charlotte Street, Manor House off St Michael's Hill, Ashington House on Clifton Triangle, and Prince Rupert House on Tyndalls Park Road.
It also covers Beech House, an historic Victorian villa and striking mews house, offering boutique serviced apartments on St Paul's Road, as well as 50 and 76 Park Street, both currently undergoing redevelopment.
Grade II listed building 76 Park Street is being renovated to its former glory to create new student apartments on the upper levels while the ground floor will become commercial space. Meanwhile, 50 Park Street will be given a new lease of life as boutique student accommodation.
The Urban Creation team has also been boosted recently by the appointment of Sino Chui as student accommodation manager, a Mandarin and Cantonese speaker, meaning she is well placed to liaise with the many Chinese students who come to study in Bristol.
Urban Creation's student accommodation is now already 50% let ahead of the new academic year in September, well ahead of targets.
Jonathan continued: "We are an innovative and forward-thinking company always looking for new opportunities and challenging projects, so we are excited to be able to take the business to the next stage. Handelsbanken is a great partner for us due to their local expertise which means they are well positioned to understand our Bristol portfolio."
Matt Bevan, who acted for Handelsbanken, said: "We are delighted to support Urban Creation's continuing growth plans and, as a member of the local business community, have known the business for over ten years so are familiar with the high quality of product they deliver. As a local relationship bank, we are pleased to be chosen as their funder of choice, and look forward to seeing future projects come through to completion."
Property consultancy JLL in Bristol advised on the valuation. TLT Solicitors acted for Urban Creation and Foot Anstey for Handelsbanken.