Phil Smith, managing director of Business West, the organisation behind Bristol Chamber of Commerce and the Bristol Initiative, looks back at the past 12 months and considers why next year's General Election is set to be one of the most important in recent memory.
"The noise and glare of fireworks this New Year must not mask the fact that we are fast approaching a significant economic and political crossroads. Look behind us and we see a year that the UK finally emerged from a damaging recession. Turn to look ahead and we see a political battleground to secure our economic and constitutional futures.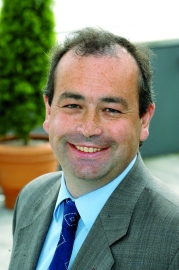 "In the past 12 months business watched unemployment plummet, GDP climb above its pre-recession peak, the UK survive a break up attempt and business confidence boom. Yes, this was a year to applaud, but clapping hands now will soon turn to pointing fingers, as all eyes focus on the General Election in May.
"The big issues are on the table for all to see. When Scotland voted against independence in September it sparked a brawl for the wider devolution of local power and freedoms from Westminster, with the Braveheart cries spreading to all corners of the UK. This constitutional reform momentum promises to roll its way to the election and beyond, with devolution pledges set to be penned on all party manifestos.
"Across the Channel our future relationship with the EU is far from certain, with Conservative promises of a referendum and UKIP demands for an exit.
"Inside and out, the political ropes are wearing thin. With political powers being rearranged, struggling tax bases and a further round of austerity looming, this promises to be the most important economic and political election in recent memory.
"As this drama unfolds, we as business cannot simply be bystanders enjoying the show. Over the past year we have been consulting with both our members and the wider business community, driving hard to gather their concerns so we can shout them to the stage at this decisive time.
"This work all builds towards the release and promulgation of our election manifesto, which will be the focal point of our lobbying work in the lead up to May.
"With the political landscape far from certain and the economy only a year out of the recovery ward, when the calendars flip over to 2015 we will see battle commence and the voice of business must be thrown into the ring."
Business West is one of the most influential business leadership organisations in the UK, representing more than 16,000 businesses in the South West including members of its network of chambers of commerce.
It offers a range of information, advice, networking events and international trade support.