Work has started on Bristol's £11.6m Filwood Green Business Park – a key part of the city's preparations for its role as 2015 European Green Capital.
Designed by Bristol architects Stride Treglown, the South Bristol development will provide 40,000 sq ft of workshop and office space and is expected to support 350 jobs.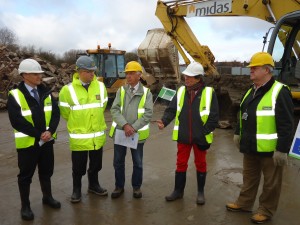 It will be the only BREEAM Outstanding office building in the South West and has already gained two well-respected environmental accolades, being highly commended in the national BREEAM awards in the Industrial category and a finalist for BREEAM's People's Choice Award, in which in competed against the highest-scoring buildings across the whole of Europe.
Mayor of Bristol George Ferguson said the project combined the highest level of environmental sustainability with strong economic and social benefits for local people.
"It's testament to the environmental excellence of this project that even before the first turf has been cut it has been judged as outstanding by BREEAM, and highly commended at the BREEAM Awards, the world's leading design and assessment method for sustainable buildings," he said.
"Filwood's Green Business Park is an example of our ambitions for our year as European Green Capital. It is a leading project in the regeneration of South Bristol, a demonstration of the real benefit of organisations working together to deliver local jobs and growth."
It will be built by Bristol-based Midas Construction on a brownfield site. The finished development will produce 20% of its energy on site from renewable sources and will include a wetland ecology area, electric vehicle charging points, new cycling and walking routes and shower facilities for cyclists. It will also benefit from being on the route of Metrobus, due to start running in 2017.
The £11.6m project is part funded by Bristol City Council and has also received £5.37m from the European Regional Development Fund (ERDF). The project has also received funding from the West of England Local Enterprise Partnership Revolving Infrastructure Fund, which is supported by the Government's Regional Growth Fund.
This development forms part of wider plans to regenerate Filwood Park, which is being led by the Homes and Communities Agency (HCA) and also includes a provision for a new public park and up to 150 new and affordable homes. The HCA has supported the business park by making the land available to the council, securing outline planning permission to develop the wider Filwood Park site and providing key infrastructure including a new access road and services.
HCA head of area David Warburton said: "This is a vitally important project for South Bristol which will raise the bar for the standard of development that will follow it at Filwood Park.
"It also demonstrates in a vivid way what can be achieved when resources and public land are combined and partners work together to turn a shared vision into reality. The jobs and new development at this business park will make a big difference to the city. It's great to see that work has started."
The business park will provide a space for small businesses and hot desk use, as well as workshops and offices for more traditional business use. All tenants will be able to buy into a range of business services, including high speed broadband, reception services, use of a boardroom and other meeting spaces.
Midas Construction is expected to be on site for 12 months with a formal opening for the business park slated for February 2015.
Midas executive director Derek Quinn said: "As a local firm based in South Bristol we are delighted to be starting work on the Filwood development. Working with our dedicated energy department, Midas Energy, we have been at the forefront of industry leading sustainable BREEAM projects over recent years and this is another significant scheme for us. Our policy of employing local contractors and skills whenever possible will also be particularly good news for the local economy, and jobs."
Knowle West Project Board chair Cllr Jeff Lovell added: "The project board has been driving this agenda for five or six years now, so it's just good to see there's something we can now take photographs of. I'm hoping this is going to be the catalyst to drive the regeneration project within the community of Filwood forward. There is a bit of light at the end of the tunnel.
"I'd like to thank all those involved, especially the residents who have been incredibly patient for an incredibly long time. It's for them and their future generations that this is all happening."
For more on Filwood Green Business Park, visit www.bristol.gov.uk/filwoodgreen