Bristol-based lighting firm Global Design Solutions (GDS) is to create 100 jobs and quadruple its turnover after securing contracts worth £500,000 with South Korean car giants Kia and Hyundai.
The jobs, which will be spread across its factory in St Annes and a new plant in South Korea, follow a decision by the £5m-turnover firm to invest more than £1.5m in the South East Asian country, where it already has an office.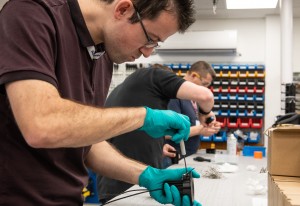 The contracts are GDS's first in the automotive sector as it – since its launch in 2004 it has provided bespoke lighting and control systems for heritage buildings, theatres and universities.
The new contracts came after a representative from Hyundai noticed GDS's equipment in an entertainment venue and was impressed by the quality of the light.
GDS will now supply lighting that mimics natural sunlight to Hyundai and Kia factories, meaning car components such as seats and interiors can more accurately be colour-matched without having to rely on natural sunlight.
GDS, which is based on the Riverside Business Park, was part of a recent Department for International Trade (DIT)-organised industry delegation to South Korea, where it signed a Memorandum of Understanding to invest in the country. The 100 jobs resulting from the agreement will be created over the next five years.
The company already has a strong exporting background, selling in nearly 30 countries across the world including Singapore, Germany and France. The new South Korean contracts are forecast to lift its turnover to £20m by 2024.
It has already created eight jobs in Bristol with more planned for later this year.
While preparing to enter the South Korean market in 2017, the company began to access support from DIT, including comprehensive market research, access to development funds, and support with networking and bespoke meetings with potential buyers.
By last year, the company's exports had grown so quickly that it was ready to open an office in the country.
GDS managing director Richard Cuthbert said: "Our business has gone from strength to strength since opening our office in South Korea. There's nothing like getting out there and meeting potential buyers face-to-face. That and thoroughly researching target markets are key to trading internationally.
"Our specialism has always been theatre lighting but we're looking to branch out into other sectors internationally. We originally thought working in South Korea would be challenging, because of the business culture and language differences but working closely with our international trade adviser helped as we were able to rely on their knowledge of the market.
"If we can export our goods worldwide, so can many other businesses in the South West. I'd recommend any brand that's considering exporting to reach out to expert organisations, as the support is out there."
DIT South West head of trade Paul Shand said GDS was a "brilliant example" of a business making the most of opportunities for British firms overseas.
"By thinking laterally about the applications of its technology, the team at GDS is now pioneering a lighting system that could have a huge impact throughout the global automotive supply chain," he said.
"Some firms still believe exporting is too difficult because of language differences or a lack of networking opportunities. That's why we have a dedicated team of advisers based right here in the South West to offer relevant, customised, one-to-one advice about paperwork, logistics, and currency differences.
"We know that businesses that export are more resilient and profitable. The support is out there for ambitious firms that want to make an international name for themselves and we have experts in 109 overseas markets that are available to help."