Bristol-based healthy fast food group Friska has secured an investment of £1.25m towards its long-term goal of becoming a national chain.
The money, raised through two angel investors and Santander, will allow Friska to open 10 new sites in Bristol, Birmingham and Manchester. It forms the first stage of the five-year-old company's national roll-out.
Since opening their first cafe in Bristol's Victoria Street in 2009, founders Griff Holland and Ed Brown, pictured, have expanded to four sites across the city – in the process building up a strong reputation with their globally-inspired fresh fast food and speciality coffee.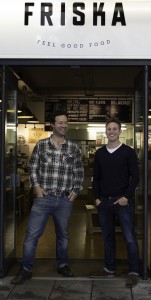 The duo, economics graduates from the University of Bath, plan to open at least one more Bristol outlet before moving into Birmingham early next year. A similar cluster of stores is planned for both Birmingham and Manchester.
They are also in discussions with an international franchise operator to take open outlets in major leisure and transport hubs.
Friska, which earlier this year was named among the Santander Breakthrough 50 – a national table of inspiring businesses – has ambitions to operate 50 cafes within the next seven to 10 years.
The new funding comes on the back of a consistently strong financial performance. Sales increased by 50% between 2013 to 2014 and next year are forecast to hit £2.5m on the back of healthy profit margins.
Ed Brown said: "This is absolutely fantastic news for Friska. Since opening we have always had big plans and have been focused on growing a successful and – crucially – well-loved business by our customers and colleagues alike. To see the plan coming together is just fantastic."
Griff Holland added: "This year really has been the most exciting one yet. Our focus on redefining expectations within our sector is becoming a reality and we can't wait to open in Birmingham and Manchester. Lunchtimes will never be the same again."
The deal was overseen by Matt Eves and Peter Doe of Bristol-based Isca Ventures, who have previously worked with Loungers – Bristol's fast-growing national group behind the Lounge and Cosy Club-branded bars – Bristol-based Parsons Bakery and London-based coffee bar chain Taylor Street Baristas.
Bristol-headquartered law firm TLT advised the investors in Friska. The TLT team included corporate partner Andrew Webber, banking and restructuring partner, Gary Roscoe and corporate solicitor James Webb.
Peter Doe at Isca said: "Friska's 'on-the-money' customer proposition of feel-good food coupled with their efficient operations have enabled the founders to raise significant capital and start their exciting national roll out."
Friska has won a clutch of awards this year, including being named a winner in the O2 Smarta 100. They also made the shortlist for the Institute of Directors' South West directors of the year awards, won startups.co.uk's Young Guns title and were regional runners-up in the PwC Private Business Awards for Emerging Entrepreneur of the Year and Private Business of the Year.