University of Bristol biotech spin-out CytoSeek has raised £1.1m to help develop new cell therapies to treat cancer.
The firm, based at Bristol's Unit DX science incubator, has created cell membrane augmentation technology that could lead to new ways of tackling cancer.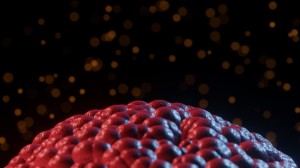 The process involves modifying a patient's own immune cells to 'supercharge' them against cancer.
CytoSeek was founded by Prof Adam Perriman, Professor of Bioengineering in the School of Cellular and Molecular Medicine at the university.
He said: "At the moment cell therapies of this kind are only used in the treatment of cancers in the blood, such as leukaemia.
"We are looking at ways that cell therapy can also be used for solid tumours, which are responsible for 85% of cancer-related deaths. To do this we have developed a protein-based cellular paint that can be put on cells to improve their cancer-killing performance."
The funding has come from 10 members of the Bristol Private Equity Club, the venture capitalist fund UKI2S and the University of Bristol Enterprise Fund managed by Parkwalk.
Bristol Private Equity Club founder Jerry Barnes said its members had put in their money and business expertise as biotech businesses like CytoSeek need the financial backing in their early years to enable them to make progress.
"It is exciting that work going on in Bristol today may lead to breakthroughs in treatment that could benefit people throughout the world in the future," he said.
UKI2S investment director Oliver Sexton added: "UKI2S was the founding investor in CytoSeek supporting its early growth and following again in this latest round. We're excited about the potential to improve efficacy across a range of immuno-oncology therapies."
CytoSeek chairman Keith MacDonald said: "We're pleased to have closed our latest investment round so quickly – now our research team can focus on bringing this important science to the clinic.
"Getting the backing of local angel investors and national venture capital funds is a real boost – these seasoned entrepreneurs know a promising business when they see it. CytoSeek's deep tech will make a real impact in medicine."
CytoSeek is the latest in a string of biotech firms to emerge from Bristol in recent years as the city becomes recognised as a centre for the fast-growing sector.
Prof Perriman added: "In the last three years Bristol has created an incredible environment for the clinical translation of science to biotechnology, and it is fantastic to have local financial support.
"This funding will help us to rapidly accelerate the pre-clinical validation of the technology, which will help get it to the clinic faster."
Bristol Private Equity Club was founded in 2016 and now has 80 successful entrepreneurs and business people from the Bristol area with capital to invest as club members. In three years it has invested more than £6m into 19 different businesses.